The Saints Out of School Club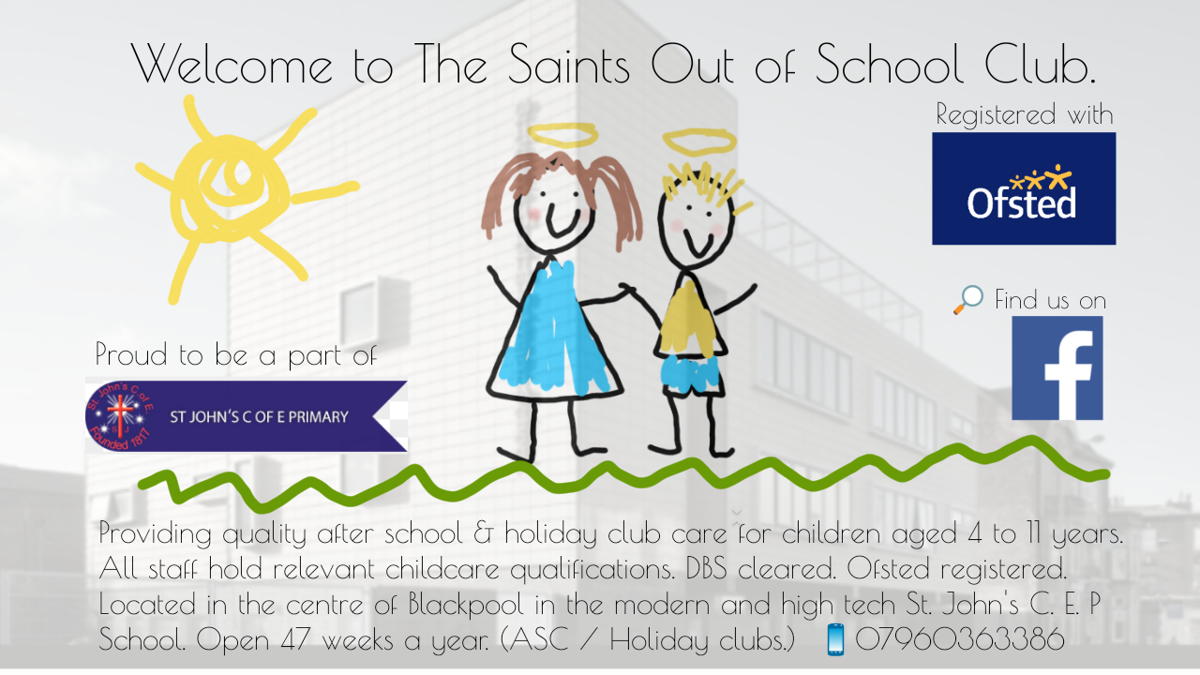 **THE SAINTS ASC IS OPEN - TEXT 07960363386 TO BOOK YOUR PLACES**
THE SAINTS OUT OF SCHOOL CLUB (O.S.C), ST. JOHN'S C.E.P SCHOOL, CHURCH STREET, BLACKPOOL, FY1 3NX.
PHONE - 07960363386 EMAIL - jodie.shorrock@st-john.blackpool.sch.uk
OFSTED INSPECTED FEBRUARY 2020
L3+ CHILDCARE QUALIFIED STAFF: DBS CLEARED / FIRST AID / FOOD HANDLING
At The Saints we provide a stimulating environment in which children can play, join in planned activities or just catch up with friends. We are based in St. John's school hall and also have access to a choice of outdoor play areas.
A light snack is provided and fresh drinking water is available throughout the session.
After School Club is open every school day, (apart from the last day of each term when After School Club is closed.)
**THE SAINTS ASC IS OPEN - TEXT 07960363386 TO BOOK YOUR PLACES**
THE SAINTS AFTER SCHOOL CLUB SESSIONS:
After School Club sessions run nightly Monday to Friday.
After school club sessions run from the end of school until 5.30pm and are charged at £6 per child.
There have been some changes to how we operate. Please read and take note of the following information.
Our main aim of keeping the children safe and happy is paramount. These changes will be under constant review.
The Saints will continue to be run by Jodie & Dot.
As before places MUST be booked and paid for at least a week in advance - on the day bookings will not be allowed unless there is an emergency. These are now going to be charged at £7 per child, per session.
The price of an ASC session is now £6 per child, per session- Payments are to be made in advance - this needs to be done by putting the payment in a named envelope, stating sessions required, which should then be passed to Jodie at ASC.
Children must only attend The Saints ASC if their parents are: working / attending essential appointments / at college or university-

Places will be restricted to ensure spacing out of 'bubbles'.

The Saints will continue to run from the school hall.
Children will be collected at the end of the school day as like before ensuring a smooth transition of the year group bubbles to the hall.
Good hygiene will be promoted throughout the session with increased hand washing and cleaning of toys / areas used.
Children will be required to stay in their class bubbles. Reception / Y1 / Y2 / Y3 / Y4 / Y5 / Y6 will be seated in their class bubbles at tables for the duration of the session. Each bubble will have activities to play with. A light snack will be delivered to each bubble. Water will be available throughout the session.
The Saints closes at 5.30pm
On collecting children from The Saints ASC parents will NOT be allowed in the building and are asked to wear masks when on the school grounds. Only one person, over the age of 16yrs, will be allowed onto the school grounds to collect their child/ children. Parents are asked to wait outside abiding by the rules of social distancing when collecting their child/ children.
Thank you as ever for your support.
TAKE CARE & STAY SAFE.
XxX
We are now offering Mini Sessions!!
Mini sessions run from 3pm to 4pm and are charged at £2.50. Mini Sessions are for siblings of children who are attending clubs at St. John's C.E.P saving parents from doing the school run twice!
To book these sessions text 07960363386. Payments must be made before children attend.
THE SAINTS HOLIDAY CLUB SESSIONS:
CURRENTLY THERE ARE NO PLANS FOR HOLIDAY CLUBS.
For details of other clubs please look at Blackpool FYI Directory - https://www.fyidirectory.co.uk/
**THE SAINTS ASC IS OPEN - TEXT 07960363386 TO BOOK YOUR PLACES**
The Saints O.S.C Information