Inside Out Day@St John's...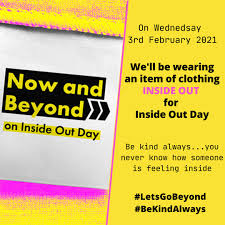 'INSIDE OUT' DAY@ST JOHN'S
WEDNESDAY 3RD FEBRUARY 2021
As part of 'Children's Mental Health Week' at St John's we will be taking part in 'Inside Out' Day today!
We would like all of the St John's children and staff to take part-at home or in school...
Today we will be wearing an item of clothing INSIDE OUT for Inside Outside day.
Be kind always...you never know how someone is feeling inside.
Inside Out Day
#LetsGoBeyond
#BekindAlways