Blackpool's First Museum 'SHOWTOWN'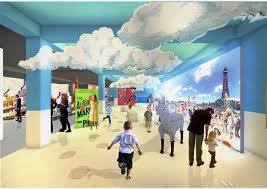 New Blackpool Museum 'SHOWTOWN'
It's anticipated that Showtown (Blackpool's first museum) will open in 2021.
It will be located in Blackpool's first five star hotel 'Sands Venue Resort Hotel'. That's the building currently being developed in the prominent position on the Promenade, next door but one to The Blackpool Tower.
Open all year-round the museum will be fun, accessible and fully-immersive. It will be filled with objects, film, music and performance. It mixes the best experiences of museums and visitor attractions – giving you a chance to look behind the scenes at what it took to make Blackpool special.
Showtown will be divided into six themes; seaside, magic, shows, circus, illuminations and dance.
Please have a look at the new Blackpool Museum's website: