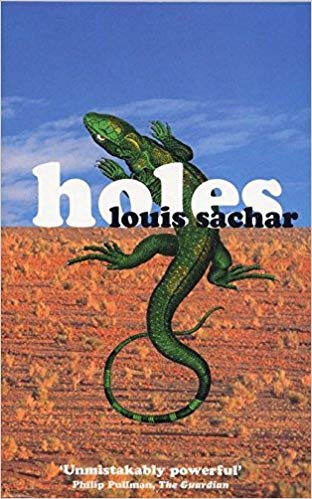 Hi everyone, Class 6 have enjoyed watching the film version of 'Holes' this afternoon as part of their Geography topic about the continent North America. Did you notice any differences between the book and the film?
Miss Johnston
19 March 2020
The main character in the film version was not what I imagined!In the book Stanley was described as overweight but in the film version he was tall and skinny?
Mr Corser
19 March 2020
What do you think the Warden might be looking for?
Hollie
20 March 2020
Thank you so much for the homework I hope I see you soon
Ameer Abuaassi
21 March 2020
The difference's from the book and the film is that in the book it says that Stanley Yelnats is very fat but in the film it tells you nothing about him being bullied about his weight so the film is like the same story just slightly different. Another difference is that at the end of the film it starts to rain alot, but in the book that does not happen I know this because I've read the book before.

-Ameer Y6
Miss Johnston
22 March 2020
Thanks Hollie-stay at home and stay safe. If you have any questions about the homework message me on here.

Miss Johnston
22 March 2020
Ameer-well spotted. I didn't know you had already read the book. Maybe try and read some of the other books by Louis Sachar. I know that Mr Corser has read a few but he still thinks 'There's a boy in the girls bathroom' and 'Holes' are the best ones!
Mr Corser
23 March 2020
I hope everyone is keeping healthy and managing to do some school work each day.

A couple of posts from Ameer and Miss Johnston have been about one of my favourite authors; I have actually read eleven books by Louis Sachar, the most recent was called "Fuzzy Mud" which was very good, though I would recommend all of his books.

Eleanor
25 March 2020
Hi, we are at school and we've just been doing Maths and English and we've been having lots of fun.
Eleanor and Joyce
27 March 2020
Hey everyone, we are at school and we are going to be making rainbows to put on the windows at school to cheer everybody up who walks past because of what is going on in the world today.
Today at school we have been using Topmarks and Mathsframe for Maths and English.
Miss Johnston
29 March 2020
What a lovely idea Eleanor and Joyce-a great idea to make and display a rainbow to cheer everyone up!!
Hi Class 6-I hope you are all well and staying safe at home. I was thinking about setting a daily Maths and English challenge for you to complete at home-would you like to take part in this?
Eleanor
1 April 2020
Yes I would like to take part
Miss Johnston
3 April 2020
Hi Class 6-I hope you are all okay and enjoying your time with your families at home. All of the staff at St John's are missing you and we would like to know what you have been doing at home! We would like you to email us some photographs for us to share on the school website, please email to: info@st-John.blackpool.sch.uk
Stay safe
Miss Johnston x
Mrs Galloway
3 April 2020
Thank you Deserae and Brogan for the photographs you sent showing your creative skills at home. Great work!
Mrs Tiribocchi
4 April 2020
Hello Class 6
How are you all? What a strange time we are experiencing, we are making history, how crazy is that? In years to come you can tell your children about the time that the world stopped!!!
My children and I have been writing a little journal every day (it's a bit repetitive!) but in a few months time when we are back to normal we can look back at it and remember these days.
I am sure that some of you (like me) have felt a bit wobbly but this is where all our Resilient training comes in. What can we do when things are tough? For me, being brave, getting organised and getting fresh air and exercise are making me feel more positive. Although I miss my friends, family and, of course, you guys, I know that this is just a small moment in time that will pass. So I am making the most of spending bonus time with my children, taking Luna dog to the beach every day and listening to lots of happy music. I was going to try the stair shuffle on Tik Tok but was worried I might break my ankle!! Anyway, please keep in touch and let me know how you are doing x
Mrs Tiribocchi
5 April 2020
Good Morning everyone,
Well it's Palm Sunday today, as you know, this is the day that Jesus went to Jerusalem on a donkey and people were so happy to see him they lay long leaves in his path and realised that he was King of the Lord.
Usually I would be at church, walking around the streets with all the congregation, being led by a donkey to symbolise Jesus's procession.
Did you know that every donkey has a cross on their back? Many people believe this is a sign from God.
Anyway today I can't go to church, instead I have hung some green leaves on my front door to remind people what a special day it is today.

By the way, I didn't realise that emojis turned into question marks on these blogs, I'm even beginning to miss emojis (I'd have put a laughing one here if I could !) xx
Mr Corser
5 April 2020
Hello Class 6

I hope you and your families are all keeping well and looking after each other.

How is the school work going?

If you are working on the history of Blackpool have a look at this video on YouTube called Bygone Blackpool - (the music is very typical of the time).

https://www.youtube.com/watch?v=Fls82yiM9-I

Once you've watched the video think about how places have changed from them and now, how everyday things have changed as well e.g. transport, clothes, music.

Mr Corser
6 April 2020
Word Scrambler
Can you unscramble these 5 words to make "real" words?
Each word links to something we have been learning about in class - good luck.

eloytwelnos
ltseayn
mmoto
asporsve
eygesr

Mr Corser
10 April 2020
Happy Easter Everyone – I hope you and your families are all keeping well.

At this important time in the church calendar we remember the sacrifice that Jesus made for all of us; at the moment we all have to make our own sacrifices. With the nice weather I am sure a lot of you would like to be playing out; however we all know that we must stay in. This coronavirus crisis will pass and once this has happened there will be plenty of time for playing out and meeting up with your friends.

Take advantage of this time by trying different things – teach a younger brother or sister something new, play a game with everyone at home (you could even design your own game), learn some new skills (cooking, bedroom tidying, drawing, writing poems, dancing). There are lots of things you could be trying.

Jesus made the ultimate sacrifice; if you can make a small sacrifice here and now it can make a big difference.

Miss Johnston
16 April 2020
Hi everyone-I hope everyone is okay and enjoying the sunshine!
I have set up a new Sumdog account for everyone in KS2.
If you would like your username and password please e-mail (or ask your parent to e-mail):
info@st-john.blackpool.sch.uk
Thank you.
Freddie
16 April 2020
I have finally found the blog. Now I know whats going on.
Freddie
16 April 2020
Mr Corser the answers to the word scrambler are:
mmoto - tommo
eloytwelnos - yellowstone
eygesr - geyser
asporsve - passover
itseayn - stanley or yelnats
Mr Corser
17 April 2020
Well done Freddie
Mr Corser
17 April 2020
Hello Class 6 - I hope you are all well.

I am going to be putting a few things here on Google Classroom.

Please could you just post a "Hello" on Google Classroom so I have an idea who is logging on there. If you read this and you are in touch with other people from our class could you get them to log in (using their gmail address) and say "Hello"

If you get in touch with other people but they can't remember their gmail address please let me know and I can arrange to get it to them.

Thanks
Mr Corser
Freddie
20 April 2020
Today I did DIY with my Mum. I put together a log holder for our logs for the fire!
Aaliyah
23 April 2020
Hey guys, I went for my 1 day exersize for the first time since lockdown yesterday. I'm Missing school so much!
Aaliyah
23 April 2020
I was just reading through the messages as I have just found the blog. Mrs Tiribocchi I didn't know you has Tik Tok!
Miss Johnston
24 April 2020
**Blackpool Sumdog Maths Competition**
Hi everyone, I hope you are all okay and staying safe.
I have entered all of the KS2 classes in the Blackpool Sumdog Maths Competition-it started this morning at 8am and runs until next Thursday.
Please log on to Sumdog and answer as many questions as you can-it would be great to win the competition and practise your maths skills at the same time!
Miss Johnston
30 April 2020
Hi everyone-sounds like you some of you are completing lots of work at home-keep it up! Please log onto 'Google Classroom' Mr Corser is setting Maths and English daily challenges for Class 6. I completed the Maths challenge yesterday it was tricky!
A quick reminder the Blackpool Maths Sumdog competition finishes tonight at 8pm. Class 6 are currently 4th on the leaderboard (We were the daily class winner on Friday-well done!)-please try and go on Sumdog today and answer a few more maths questions for us...
If you have any work to share with us or photographs of your homelearning please e-mail:
info@st-john.blackpool.sch.uk
I hope you are all okay and staying safe...

Mr Corser
4 May 2020
Hi Everyone - hope you've all had a good weekend.
Just to echo what Miss Johnston posted last week - I have been putting daily tasks on Google Classroom. It has been really nice catching up with some of you on there. Aaliyah, Freddie, Tony and Layla have been regular customers and we have also had guest appearances from Skye, Lauren and Miss Johnston. If you get chance log in, say hello and try some of the tasks (they're not that tricky).
Mr Corser
12 May 2020
The History of St. John's C of E Primary School – Part 1

Our History topic is the history of Blackpool and I think it is important that we find out about the most famous establishment in Blackpool - Our School. Use the website below to find out about the history of St. John's - but was it always called St. John's???

https://www.blackpoolgazette.co.uk/news/story-blackpools-first-free-school-1058922

In 1817 Blackpool was a small village with how many people?
A visitor from Derbyshire was worried that there was no school so he decided to raise some money to build a school – what was his name?
When the school was first built in 1817 what was the name of the road it was on?
Approximately how much did it cost to build the school?
When the school first opened it had 40 pupils – what is another name for pupils used in the article?
What was the name of the school in 1817?
Who was the first master of the school?

Mr Corser
18 May 2020
Hi Class 6
I hope you've all had a nice weekend.

Here are a couple of ideas you could try this week. The Top marks website is very good for lots of different subjects; a lot of the activities will work on different devices, I've just tried a few Maths games on my phone.
https://www.topmarks.co.uk/

How about doing a bit of drawing/sketching - if you look at Shoo Rayner on YouTube he has loads of different things you can have a go at drawing – I've just drawn a very happy hedgehog.

Mrs Tiribocchi
18 May 2020
Wow, this is our 9th week of Lockdown!!! Considering we haven't been doing very much I think the time has passed quickly, do you? I am at school today, it feels really strange without you guys here, I can't wait to see you all again. Have you been on BBC bitesize? I think its awesome, my son uses it a lot and I must confess i've been polishing up on my SPAG and maths! My son has had to do World War 2 project and as part of it we had a VE Day party and made some scarecrows to sit in the garden, they made people laugh who were walking past and we got on the local News on TV too which was incredibly exciting!! We are still writing our diary and saving keepsakes of Lockdown to remember this surreal time. You are all going to receive a letter from your teachers soon , maybe you'll keep it as a momento? Well I had better get on with my work, hope you are all well and happy and I very much look forward to seeing you soon. In the meantime keep safe and carry on being kind to everyone and yourselves. xx
Miss Johnston
19 May 2020
Hi everyone-I hope you are all well and staying safe at home. I just wanted to let you know there are new homelearning packs for Class 6 ready to be collected. Our new Geography topic after half-term is the Lake District and Mr Corser has set some English and Geography tasks about the Lake District which is a national park and in Cumbria. I have also put in a maths pack and a 'number of the day' laminated sheet so you can change the number each day and continue to practise your number skills at home.
I hope to see you all soon.
Stay safe,
Miss Johnston
Mr Corser
9 June 2020
Hi Class 6 - I hope you are all well and keeping busy with your learning. You have had some new work sent home on the Lake District and we have also started putting new activities on Google Classroom for you to have a go at.
Mrs Shearman
21 July 2020
Hello year 6!
Oh my goodness I can't believe the time has come for you to leave St Johns as it only seems like yesterday you were in reception with myself and Mrs Coyne! Where has the time gone? Lots of happy memories of our time together from train trips, visits to the woods and looking for Bog Babies! It has been lovely to watch you grow over the years as you were my first class when I started at St Johns school and now it is time for you to move on to the next chapter in your learning journey.

Be bold, be brave and take a leap of faith in yourself as the world awaits you!
Wherever you go and whatever you do may you always be happy!

...And in the blink of an eye you are all grown up!
X

Leave a Reply